Purchasing a 2022 data license
Rather than forcing you to buy a new program each year, once you have purchased the program license, you may simply buy the annual Data license (at a substantially lesser cost).
In order to purchase the Data Update for the current year, download the update when it becomes available.
After you download the 2022 Data Update, you may purchase the data update by check or credit card. If by check, simply print and complete the 2022 Data Update Order form (available to be printed from the program) and mail it in with your payment. The Order form will automatically have your 2022 Update Registration Code for that computer printed on the bottom. We will email the corresponding Key to you upon receipt of your order and payment.
Alternatively, you may purchase the update on-line with a credit or debit card.
After the update is installed, please click on "Register Software" in the lower left of the initial screen. Find the "2022 Update Registration Code" in the update notice window or midway down the registration screen (it begins with "7D_2022"). Please make a note of your Data Update Registration Code.
Copy the 'Data Registration Code' to your clipboard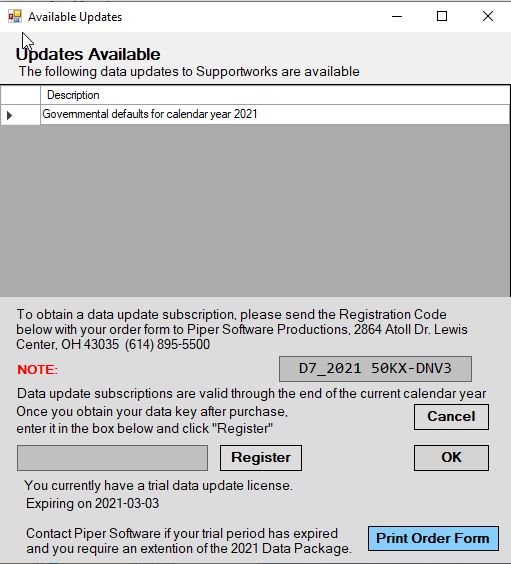 Then go to the web page at www.supportworks.net and select "Buy 2022 Update". When prompted, enter the Data Update Registration Code and your purchase information. Your update registration key will be immediately emailed to you at the end of the transaction. Enter the key in the Data Update Registration Box on your program and click "Register". Please note that currently you will need to complete the above process separately for each license for which you wish to obtain a 2022 update so that separate keys can be obtained.
Click below to purchase the Data License
When it prompts to your for Data Registration Code, provide the value that you copied above